The main objective of the Tourism Development Department is to promote programs that help promote higher levels of quality and competitiveness, the creation of local capacity and sustainable tourism development in the country's different planning units. To this end, it creates work processes that are aimed at communicating and implementing tourism plans, developing local capacity with municipalities and chambers of tourism, training and strengthening MSMEs in the tourism sector and furthering the development of new products (rural, wellness, social, nautical and convention tourism).
A strategy entitled "Strengthening Destination Competitiveness" has been created to coordinate these programs. The strategy is directed towards using the cultural wealth and diversity of different regions of the country to promote tourism products (Local Cuisine and Crafts with Identity) among various local groups and actors. The goal is to offer tourists a holistic experience that brings together natural and cultural attractions, allowing for the development of MSMEs, community involvement in the tourism industry, greater local development and better quality of life for Costa Ricans involved in the programs.
The strategy is being developed through the implementation of the following programs: Rural Tourism and Rural Community Tourism, Traditional Costa Rican Cuisine, Crafts with Identity, MSMEs and the Training Program. These seek to strengthen destinations that are ever more competitive, involve local actors in their management and ensure that ever more people and business leaders benefit from the tourism industry.
The programs and actions carried out by the Tourism Development Department to achieve the stated objectives are:
I. Rural Tourism and Rural Community Tourism Program:
This program is geared towards supporting businesses in rural tourism and rural community tourism with a view to offering a quality alternative for local and international tourists to enjoy an authentic Costa Rican experience. In addition, it aims to include business leaders and communities into the tourism industry in a more competitive manner, promoting community self-management and intelligent natural resource use and conservation. This will lead to benefits for the country's rural communities, a diversification of their income sources and an improvement in the quality of life of those living in different parts of the country.
Rural community tourism experiences are created in cooperatives or community associations that have private ecological reserves, farms or areas of interest, or which are located close to areas of environmental and cultural interest. Communities offer innovative experiences that combine tourism services such as lodging, excursions and crafts, with the impressive natural landscapes and the living culture of their locale (rural, indigenous or Afro-Caribbean). This allows visitors to discover new cultures and explore heavenly locales while spending time with communities that are involved in conserving natural resources and providing them with benefits. Visitors also have fun and find healthy and creative relaxation.
Support for businesses is provided through various action areas:
1. Catalogs Promoting Rural Tourism and Rural Community Tourism:
This development catalog in English and Spanish deals with the formal offer for lodging establishments (inns), culinary businesses (eateries), productive farms (thematic activities) and tour operators (local agencies).
2.Participation in Promotional Fairs
These are trade fairs where we raise the profile of the existing tourism offerings around the country and promote the services of all companies.
1. Gustico
The Gustico Fair promotes the marketing of agro-alimentary and livestock products with added value. It raises the profile of micro, small and medium enterprises, which represent the height of quality in the country's offerings. Furthermore, it supports companies from rural areas while also recovering traditions and cultural aspects related to the consumption of these products.
Visit: www.feriagustico.mag.go.cr
2. Expotur
EXPOTUR is the region's largest tourism marketing fair, as well as one of the most significant events in the Latin American context. Its 30 years of proven experience make it an excellent business platform.
Visit:www.expotur.com
3. National Tourism Fair
The National Tourism Fair: ¡Vamos a turistear! Organized by the Costa Rican Tourism Board (ICT), it brings together tourism offerings from over 100 companies offering their services at the national level, including hotels, tourism agencies and vehicle rental companies. In addition, it will be attended by 100 small and medium companies that are responsible for creating craftwork throughout the country.
4. Assistance to Rural and Community Tourism Companies
Assistance is provided in terms of product structure, quality and business administration.
For more information, please contact: This email address is being protected from spambots. You need JavaScript enabled to view it.
5. Training to companies or organizations:
Integrated, inter-departmental assistance given to business leaders in Rural Tourism and Rural Community Tourism through a program that includes mentoring, training, political impact, categorization and product promotion.
II. Crafts with Identity Program:
Since 2011, the Costa Rican Tourism Board, through the Touristic Planning and Development Direction, has developed a strategy to improving product the competitiveness and the tourist destination through the incorporation of the Costa Rican cultural heritage, as a differentiating element of the tourist offer.
Within this strategy, is the training program called "Crafts with Identity", where the artisans assemble their own design line by incorporating their technique, as well as elements of their personal and local identity, as the differentiation seal; thus, creating useful or decoration items with a human aspect, expressing innovation, history, identity and quality using local materials.
This process positively impacts the generation of novel, top quality products that contribute to improve the organizational aspects of the artisanal craft collection, the artisan´s income and strengthen their self-esteem when marketing and positioning their products.

This initiative aims to provide the national and international tourists with the possibility of taking of the Costa Rican soul, made by the hands of Costa Rican artists, giving added value to their travel experience.
The program is constantly growing, that's why it promotes the inclusion of artisans with artisanal techniques of Costa Rican tradition or producers of neo-crafts that, due to their design, identity, quality, and healthy practices, can be part of the program.
For more information or process the incorporation to the program, contact:
Lic. Katy Solís Piedra
Emial: This email address is being protected from spambots. You need JavaScript enabled to view it.
Phone: 2299 5770 o al 2299 5800
Costa Rican Tourism Board
Touristic Planning and Development Direction
Collectives Crafts with Identity:
The craft collectives with identity that make up the program are distributed by different tourist areas of the country; they are the following:
| | | | |
| --- | --- | --- | --- |
| No | Nombre del Colectivo Artesanal | Lugar de Impacto | Año |
| 1 | Colectivo Artesanal Puerto-Puerto | Puntarenas | 2011 |
| 2 | Colectivo Artesanal Limón Dulce | Limón | 2012 |
| 3 | Colectivo Artesanal Arroz con Mango | Alajuela | 2012 |
| 4 | Colectivo Artesanal La Garúa | Cartago | 2013 |
| 5 | Colectivo Artesanal La Zona | Golfito | 2014 |
| 6 | Colectivo Artesanal Cardumen | Quepos | 2014 |
| 7 | Colectivo Artesanal La Huaca | Liberia, Guanacaste | 2014 |
| 8 | Colectivo Artesanal Norte-Norte | Los Chiles, Guatuso, Upala | 2016 |
| 9 | Colectivo Artesanal Calzada Dulce | Turrialba | 2017 |
| 10 | Colectivo Artesanal Encontraste | Gran Área Metropolitana | 2017 |
| 11 | Colectivo Artesanal Bosque Mágico | Monteverde | 2018 |
| 12 | Colectivo Artesanal Siempre Verde | Sarapiquí | 2018 |
| 13 | Colectivo Artesanal La Granea | Los Santos | 2019 |
| 14 | Colectivo Artesanal La Choreja | Santa Cruz, Guanacaste | 2019 |
Crafts with Identity Program Catalogue
III. Traditional Costa Rican Cuisine Program:
Since 2011, this program has been running as a partnership between the National Institute of Learning, the Ministry of Culture and Youth and the Costa Rican Tourism Board. It uses the seven-volume Traditional Costa Rican Cuisine from Each of the Country's Regions, which is the result of a traditional recipe contest. Along with a cocktail book, it forms the basis of the courses, which deal with recipe preparation as well as food handling issues, preparation of meals, costing and the importance of differentiation and how culinary specialization can be a stand-out element. Some 169 managers, cooks and bartenders were trained in 2014 in Cartago, Santa Cruz de Guanacaste, Upala, Caribe Sur, Puerto Jiménez and San José.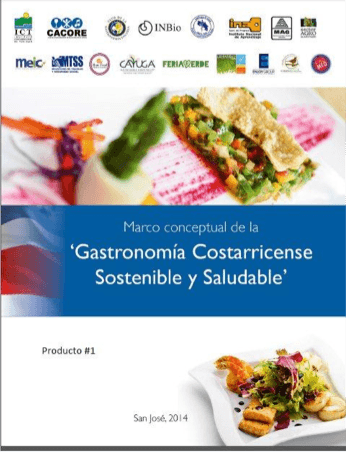 In addition, the Costa Rican Tourism Board is developing a National Plan for a Sustainable and Healthy Cuisine, in partnership with the Costa Rican Chamber of Restaurants and Dining Establishments, the Epicurian Cuisine Club, the National Institute of Biodiversity and the Ministry of Agriculture and Livestock.
To learn more about Costa Rican cuisine, the following cookbooks are available; one from each of the country's provinces and a book on New Costa Rican Cocktails.
For more information:
This email address is being protected from spambots. You need JavaScript enabled to view it.
IV. Training and Assistance Program
This program is strategic for the country's tourism development, with the purpose of contributing to the ability of businesspeople and organizations to have the theoretical and practical tools to improve the management of their businesses, the competitiveness of various tourist destinations in the country and the satisfaction of domestic and international tourists.
Training events were carried out with the aim of promoting capacity development at the local, business and municipal levels to effectively involve key actors. These events were able to train 2,120 businesspeople or workers linked directly or indirectly to the tourism industry, chambers of tourism or municipal governments. The subjects dealt with were the following: Traditional Costa Rican Cuisine and Cocktails, Organization and Implementation of the National Tourism Fair, Social Networks, Product Development, a Training Needs Workshop, an Ebola and Chikungunya Workshop, a Tourism Municipalities Workshop, a National Forum of Tourism Education, Rural Tourism and Tourism Product Structuring Workshop, Structuring of Cultural Offerings of Destinations (Centers of Culture and Tourism), Development and Innovation in Tourism Products, Planning of the Maritime-Coastal Zone. See the table below for more information.
Advisory events were also held in the areas of tourism, the creation of strategic plans and tourism strengthening actions for destinations.
In addition, we provided advice to local actors, such as chambers of tourism and cultural organizations.
For more information:
This email address is being protected from spambots. You need JavaScript enabled to view it.
V. Municipal Government Support Program
The following actions were carried out with a view to building capacity in local governments:
Workshops with municipal governments throughout the country on issues of development planning legislation, application of management laws and regulations in Maritime-Coastal Zone.
Proposal on financial technique to determine the royalties to charge in the MCZ for municipalities with jurisdiction over these areas.
Technical assistance for municipal government in the MCZ and with tourism management.

PFor more information: This email address is being protected from spambots. You need JavaScript enabled to view it.
VI. Cultural
"WITHOUT MUSIC
A MISTAKE"
"Only music is capable of the miracle of making the material invisible and giving form to the spiritual. Only music discovers the hidden face of reality, only music allows one to travel to eternity and back."
Friedrich Nietzsche>
This section supports and promotes the cultural manifestations of Costa Rica, including dance, music, nursery rhymes, couplets, theater and other scenic arts that highlight our national identity. These elements are a distinguishing feature of the Costa Rican tourism offer. This cultural heritage accounts for rhythms from here and there, with music and dance from Guanacaste and the Caribbean, the boleros of the Central Valley and the tropical rhythms of Puntarenas. We wanted to use this section to support new music groups that had come up in our provinces and cities.
ICT is supporting efforts to promote active and equal participation by individuals and social groups in cultural and creative activities.
ICT is strengthening the capacities of cultural entrepreneurs and supports the development of their businesses.
Our focus promotes culture as a strong motor of social and even economic development. By investing in creativity, ICT stimulates the growth of dynamic cultural sectors that have a strong impact on developing countries.
This initiative has been incorporated into the new Culture and Tourism Centers program, which works alongside local actors and organizations to set up permanent spaces in which domestic and international tourists are offered high-quality cultural products, which include dance, music, crafts with a cultural identity and tours and services in the region, among others. The centers will be spaces in which tourists can enjoy cuisine, music, dance, tourism offers and crafts in a single space. The spaces are being developed in San José and Cartago.
However, the strategy over the medium term is to establish these spaces in various regions of the country where there is a major demand and flow of tourists. The plan is to create these spaces in different tourism development centers.
For more information: This email address is being protected from spambots. You need JavaScript enabled to view it.
VII. Airplane Tickets
Airplane ticket requests processed by the Development Department must be related to tourism training..
By order of the General Management, no request will be processed if it is incomplete meaning that if a request is sent without 100% of the requirements, it will be returned to be completed and sent again to the Tourism Development Department.
Inquiries, concerns and follow-up of the request please contact the Marketing departments. at 2299-5769; 2299-5846 and 2299-5847 of the Training Department.
Inquiries on the approval of applications should be made by e-mail to Yoselyn Hidalgo yoselyn.hidalgo.ict.go.cr