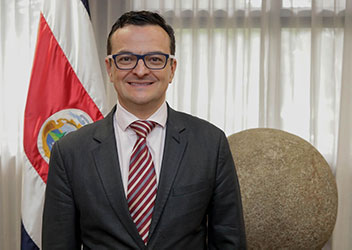 On July 8, 2020, I was appointed Chief Executive Officer of the Costa Rican Tourism Institute, with the rank of Minister. This is an honor and responsibility that I take on in the middle of a complex situation for the world, for our country, and for our tourism industry.
The spread of this virus, for which we still have no vaccine and no cure, means that our tourism industry and the network of enterprises that comprise it are in the midst of an emotional, physical, and economic crisis. I understand this situation. I am deeply aware of it because for the last 20 years, I have been a member of this magnificent industry.
I am committed to working tirelessly on the tasks of public law enforcement for which I am now responsible, in order for Costa Rica to move forward. Costa Rica must continue to be a world class player in the tourism industry. This is a goal that I cannot reach on my own, for it requires that we work together and for our country. I am supported in this by technical and human teams of the highest caliber. Furthermore, I am supported by the private sector, my indispensable companions on this journey, on whom we depend in order to overcome this crisis with the smallest impact possible.
My priorities include finding and getting the tools we need to quickly and effectively alleviate the financial difficulties of enterprises in our tourism sector, and to encourage an economic reactivation that is safe and adheres to the health requirements that the pandemic imposes on us.
Setting Costa Rica's tourism industry back on a firm footing is the surest formula to reactivate our country's economy because tourism is our most important economic driver. What we need to do now is to work on those issues that are urgent, those that are important, and those that are strategic - all at the same time and in an orderly fashion - without losing sight of the priority of health. We must strive for a balance so that we are able to achieve a gradual reactivation, by taking safe and steady steps, and continuing to negotiate, driven by a sense of patriotism and an understanding of the responsibilities that lie ahead of us.
Our country placed a wager, three decades ago, on a model of sustainable tourism, which today is recognized around the world. It affords us a priceless competitive advantage for the Costa Rican tourism sector to recover. I am confident that the private and public sectors will achieve this goal by working together.
Together, we will get there!
Gustavo J. Segura Sancho
Minister in Charge of Tourism